With Easter just around the corner, I wanted to dedicate this week´s post to one of my favorite holidays. Basically any holiday that involves good food and good people instantly becomes a favorite of mine. But Easter feels extra special as for me it also signals the beginning of spring. The fact that the long cold Icelandic
winter is finally coming to an end.
That, and the chocolate of course!
Many cherished childhood memories of mine are bound to this holiday. When we were little my sister and I would excitedly search for the Easter eggs the bells had brought us(In France bells bring the Easter eggs).
We would get the most amazing chocolates: easter bunnies, easter hens and little chocolate eggs in colorful foil wrappers.
Maybe this explains my love of this holiday, as well as my obseesion with chocolate.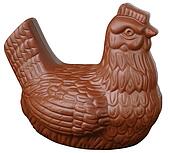 Although I´m technically a grown up now, picking out a chocolate egg for Easter is still a great source of joy for me. It´s a small piece of my childhood self I have managed to hold on to. But now, according to age, my choices are a little bit more grown up( Still, I will never be too old for Kinder eggs and Easter bunnies). This year I´m thinking of splurging on one of these
beautiful eggs:
Handmade chocolate eggs from my favorite bakery here in Reykjavík: Sandholt. Yup, I think that´s it.
Making your own easter eggs is also really fun, I´ve tried that myself once. The upside to that is you get to decide on the design of the egg, what kinds of chocolate you want to use, the decorations, the size. The Possibilities are endless.A homemade easter egg also makes a great gift! Here you have a step by step guide on how to make
your own easter eggs and just for fun, here is a list of
traditional easter foods
around the world