Halló halló
Nú vil ég endilega að sumarið fari að láta á sér kræla á Íslandi. Farin að dreyma um grillpartí og matarboð úti í garði og yndislega bjartar og hlýjar sumarnætur. Svo er ekki verra að geta hlakkað til þess að fara í utanlandsferð eftir tæpan mánuð. Langar svo mikið í bikini sem er hátt í mittið, en ég finn ekkert í flottu mynstri sem mig langar í. Þið megið endilega hjálpa mér að finna draumabikiniið mitt.
Var að hugsa um að gera "outfit" post bráðum (það er að segja þegar myndavélin mín er komin í lag), með yndislegu, hálfgegnsæju rauðu maxi pilsi sem ég fékk í Spútnik. Ég á örugglega eftir að nota það í tætlur í sumar. Annars vil ég endilega koma því á framfæri við ykkur að ég verð með bás í Kolaportinu á laugardaginn, þar sem ég mun selja ýmsar gersemar úr fataskápnum mínum. Endilega mætið og nælið ykkur í eitthvað flott fyrir páskana!
Hér
er event á facebook.
Ég ætlaði að deila með ykkur fyndnu myndbandi sem heitir Le café, þar sem fartalvan ákvað að stríða mér verður það víst að nægja að deila linknum .
Hér
finnið þið myndbandið á Youtube.
I can´t wait for the summer to finally reach Iceland, I´ve had enough with rain ,wind and snow ( yes , snow! In april!). I am already planning all the barbeques, garden dinner partys and looking forward to bright and warm summer nights.These days I am lusting after a high wasted bikini in a beautiful pattern, for my vacation to Spain. Unfortunatly I can't seem to find one anywhere. If you find one in a beautiful print help is appreciated :) I am thinking about doing my first outfit post soon. I just got this amazing sheer red maxi skirt in Spútnik, a local second hand store in Reykjavík , Iceland. I just know I am going to live in that skirt for the whole summer ( if it ever decides to arrive).
For those of you currently located in Iceland, I will be at Kolaportið flea market on saturday, selling some of my wardrobe gems.
I was going to post a great video called Le café. As my laptop decided to tease me i will just have to post the link. Check it out
here
.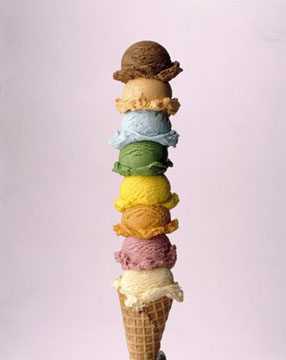 1. I love my new skirt
2. Love to sit down with a cup of coffee and a travel mag. Dream away!
3.because in summer , you just have to have ice cream
4. These are on my wish list
5. Love these from River Island , such a lovely summer colour .
xoxo
Andrea